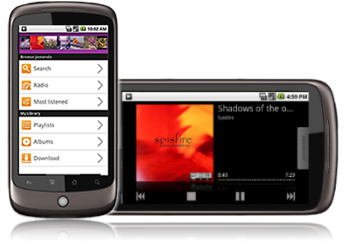 Discover, listen, download and share the works of independent artists from across the world. jamendo.com offers the largest Creative Commons-licensed music catalog on the planet! It's free, legal & unlimited!
Additional resources
Changelog
1.0.0 BETA
IMPORTANT: This version abandons support for Android 1.5 (Cupcake)


Fast forward and reverse: just touch and hold << and >> buttons
Gestures!
Added scrobbling to Last.FM using Simple Last.FM Scrobbler
Downloaded files long-press options
Support for Jamendo website review and share clicked from browser
Moving application to SD card
Shuffle/repeat playlists
Scrolling of long titles
bugfixes



0.9.10.2 (latest 0.9.x)


0.9.9.1

initial open-source release
Development team
Piotr Borowczyński
Bartosz Cichosz
Marcin Gil
Arkadiusz Grabka

Łukasz Wiśniewski (original author)



License
Apache License, Version 2.0
Contact
Teleca Poland Sp. z o.o. ( )
6 Kasprzaka Street
90-083 Lodz
Poland
Tel +48 42 288 15 00
Fax +48 42 209 49 51


Download
You can download this project in either zip or tar formats.
You can also clone the project with Git by running:
$ git clone git://github.com/telecapoland/jamendo-android